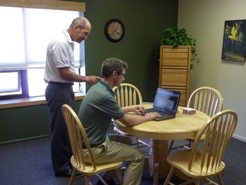 Wealth Management Services: Call or Email us today!
Spring is just around the corner and with it comes tax time!  Give us a call to discuss how you can save for your retirement by contributing to a tax-deductible IRA or a Roth IRA that grows tax-free!
Give us a call or drop us an email to set up a time to stop by and discuss your retirement goals.  We'll be happy to run a custom Retirement Analysis for you at no cost. 
Our advisors are qualified to provide a wide variety of services including Investment Accounts, IRA's, Roth IRAs, Simple/SEP IRA's, 401k Rollovers, College Planning, Life Insurance, Long Term Care Insurance and Disability Insurance.
Whether you're a small business owner, retiree, young couple planning for a family, employee looking for guidance on your 401k or just someone looking to get started on your future, our brokers are ready to visit.  
How much will it cost to pay off a loan over its lifetime?

Will you be able to afford nursing home care?

This calculator can help you estimate your annual federal income tax liability.

Estimate the annual required distribution from your traditional IRA or former employer's retirement plan after you turn age 70½.